1. Al-Khawarizmi Institute of Computer Science – KICS
Al-Khawarizmi Institute of Computer Science (KICS), University of Engineering & Technology (UET), Lahore was established in 2002 by the Govt. of Punjab to conduct research and development activities in the areas of information and computational technology (ICT) in collaboration with local industries and international research and academic organizations.
http://kics.edu.pk/

1.1. DISTINCTION of KICS
1.1.1. Resource Center by HEC
KICS came out to be one of the top ICT research centers in Pakistan, selected as RESOURCE CENTER in a joint study by HEC and IDB. The report of the project titled 'Mapping Pakistan's Resource Centers' has been published which will be disseminated to all 58 Islamic Countries from the Head Office of OIC this year.
1.1.2. Pioneer Research Organization by British Council
Selected as PIONEER RESEARCH ORGANIZATION in Pakistan by a joint survey of Knowledge Platform and British Council with the endorsement of HEC. The report has been published and disseminated to all universities.
2. Enterprise Software Solution Lab – ESSL
Enterprise Software Solution Lab – ESSL (formally UMS lab) is a leader in its domain of providing services in Academic Management System, in KICS. Ever since its inception in 2002, it has evolved and taken centre stage in information and technology by providing ERP and Non-ERP solutions to the Government and Private educational sectors.
With the hands-on experience and domain expertise, we have completed handsome 22 implementations (8 Public and 14 Private) in the Punjab, Pakistan. We excel at delivering business solutions outside Punjab to other University and Colleges too.
What makes us distinctive is our ability to assist clients and meet challenges. We serve them to enrich their productivity by guaranteeing that their core business functions work faster, economical and better by providing them solutions in OPEN SOURCE. Considering the mind set of Pakistani users, we provide economical solutions with open source option in ERP environment so that they can take their business to the next level.
ESSL has proven its worth to many Universities by implementing Outcome-Based Education (OBE), Continuous Quality Improvement (CQI) and Bloom taxonomy in their LMS Systems. Many international conferences had been hosted where it's services and innovation has been admired.
2.1. EDU Campus with OBE in ERP
This is an Outcome-Based Education (OBE) campus management solution developed in leading ERP. It can be used for both academic activities like academics, examinations, student portal, QEC, fee, transport, hostel etc and as well as administrative activities like accounting system, HRM, SCM, CRM, and e-commerce etc. This is a secure web-based solution to embrace password encryption, in addition to a one-time password (OTP) user authentication. OBE based campus management solution helps to identify the bottlenecks in the planning of the educational process and enables the higher management to take the corrective actions in order to mature them. In other words, it enables the student and university to improve their education and learning levels with the help of Continuous Quality Improvement (CQI). This enables easy access to data for administrative staff to reduce their clerical work and time.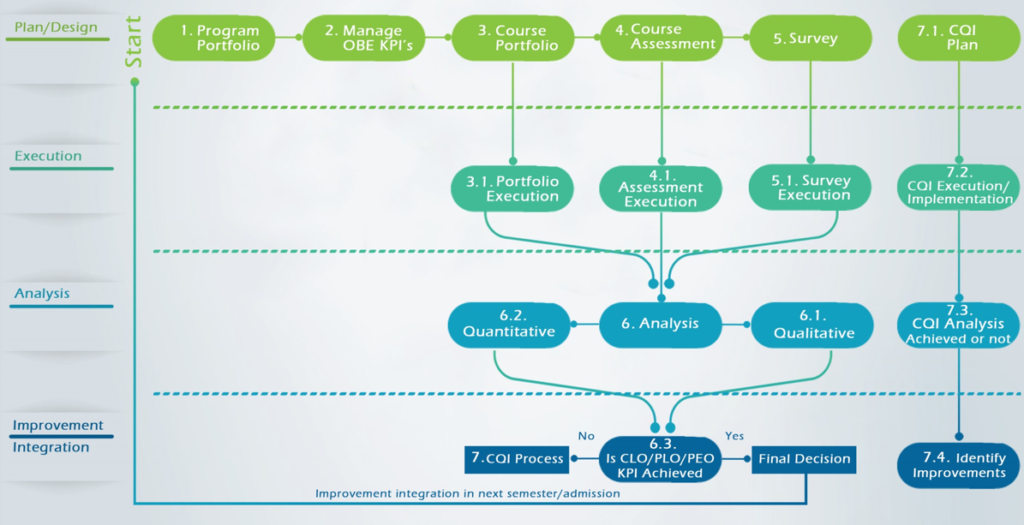 For detail, please click below
2.2. ESSL Salient Features
A total of 22 successful implementations which include 8 public and 14 private sector universities. UET Lahore and University of Punjab (IQTM) are the prominent ones.
ESSL products are being used by more than 48000 users.
ESSL products offer more than 60 reports for analysis, monitoring and control in a paperless environment.
ESSL products have got multiple OBE accreditations by PEC and successful evaluations by HEC.
Guaranteed implementation of complete solution in a single academic semester.
Ensuring continuous improvement towards the security standards of ISO 27001 in all the implementations.
Free training of ERP modules like FM, SCM, CRM, HRM & eCommerce with our product implementation.
Free cloud service which supports up to 25000 users for the duration of the agreement.
2.3. Implementation Options
2.3.1. Option One – Based on Experience of Existing Implementations
Download presentation and detailed proposal.
Get schedule a live skype demo by filling the contact-us form.
Get Quotation
Issue Purchase Order and Sign Contract
Get implemented in single acdemic semester.
2.3.2. Option Two- Based on Self Evaluation for End-End Process
Download presentation and detailed proposal.
Sign Non-Disclosure Agreement (NDA)
Complete assistance based, skype sessions for your nominated team to execute a complete academics process in dedicated cloud instance. This session will help you to understand the strength of our academic process (with or without OBE) with complete hands-on experience. This session will be for one month for your nominated team. The team may consist of 13 members which may include a Program Coordinator, five teachers, five students, a QEC member and an examination officer.
Get Quotation
Issue Purchase Order and Sign Contract
Get implemented in a single academic semester.
2.4. Copyright 2019 – KICS
Proposal & demo contain confidential information proprietary to KICS and may not be reproduced, copied or used for purposes other than its intended use without the prior written consent of KICS. The information in these document is subject to change without notice. Please note that if you knowingly do any activity against above is infringing, you may be liable to KICS for certain costs and damages. http://www.kics.edu.pk
2.5. Downloads
Help others achieve their dreams and you will achieve yours

Les Brown